Welcome to Empire Lacrosse
Asheville Empire Lacrosse is a non-profit organization whose primary commitment is teaching the game of lacrosse while providing a great experience and instilling a love for the fastest game on two feet. We will be offering recreation teams from 2nd grade (age 7) through high school (age 19). All players, no matter what skill level, are taught the fundamental skills and strategies required to develop into a complete player. Our coaches are US Lacrosse certified and focused on developing team players, good sportsmanship, and positive values for our players.
GOOD LUCK TO OUR EMPIRE VARSITY!
The 2018 High School State Club Championship Games are the final culmination of all of the hard work that North Carolina High School Club lacrosse players have endured over the Spring 2018 Season. Club Teams will be recognized for their effort and commitment. Empire Varsity will compete in the High School State Championship against club lacrosse players from teams throughout the state.
Dates: Saturday, May 12, 2018 and Sunday, May 13, 2018
Location: MAZEPPA PARK, 645 Mazeppa Road, Mooresville, NC 28115
GO EMPIRE!
Wednesday, April 11, 2018:
Empire DEFEATS Asheville School, 10-7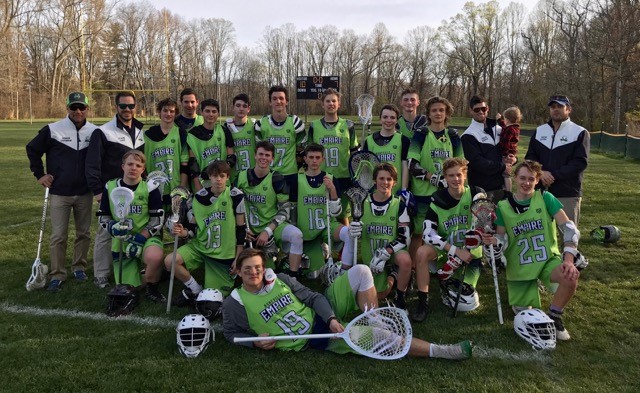 Thursday, March 29, 2018:
Empire DEFEATS Christ School, 6-5
GUARDIAN CUP THIS WEEK!
TOURNAMENT SCHEDULE
SATURDAY, MAY 12, 2018